These photographs are from a fantastic barn conversion in the town of Newark, Nottinghamshire. The owners of the property, however, were unhappy with the state of their modern Sandstone Flagstone tiled floor, which was looking dull and tired. Flagstones are typically quite hard-wearing and durable but will need proper maintenance over time and I was called in get them looking like new again.
Cleaning Sandstone Flagstones
Firstly, I mixed a solution of one part Tile Doctor Pro-Clean, which is a high alkaline cleaner, to 10 parts water; this was then applied to the floor and left it to dwell for 15 minutes before agitating the solution into the Flagstones with a scrubbing brush fitted to a low-speed weighted rotary machine. This helped to remove the soil build-up and also break down the old sealer, the resulting residue was promptly removed using a wet-vac machine and the entire floor rinsed with fresh water.
Following the clean, I installed two whole room air mover driers to accelerate the drying of the floor overnight. It is essential to ensure any tiled floor is completely dry before sealing, as excess moisture has the potential to upset the performance of the sealer.
Sealing a Sandstone Flagstone tiled floor
On my return the next day, I ran some damp tests to check for excess moisture. Once I was satisfied that the floor was ready to seal, I applied a total of four coats of Tile Doctor's colour intensifying, topical sealer, Colour Grow.
The sealer impregnates the stone, providing durable protection from within, and thereby protecting the stone from soil ingress, and both oil and water based spills. Colour Grow was the ideal choice of sealer since my clients did not want a shiny finish, and this product dries matte in appearance whilst enriching the natural mineral colours in the stone.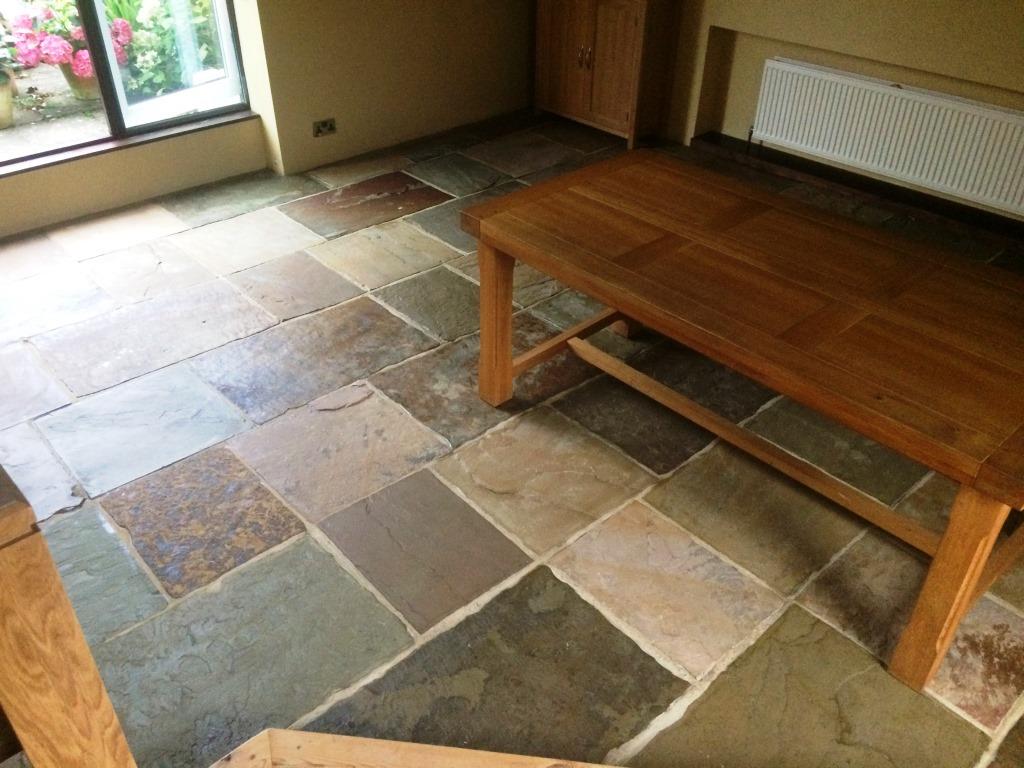 After completing the job, I made sure to offer my clients some day-to-day cleaning advice. The simplest form of maintenance is damp washing with a mop, using
Tile Doctor pH Neutral Tile Cleaning Solution
, providing that is has been correctly diluted. I also recommended changing the mop water every 7-10 metres squared, to help avoid suspended soils from being re-deposited back onto the surface of the floor.
Tile cleaning and sealing for a Sandstone Flagstone tiled floor restoration in Newark
Dull and Tired Sandstone Flagstone Tiled Floor Refreshed in Newark